Listening to music while you swim takes swimming to a new level, thanks to Underwater Audio's waterproof iPod. But all good things must come to an end, even your awesome swim session.
Make the transition from water to land easier with an absorbent towel that dries your body quickly. Here are the top three best swim towels to get the job done.
SportLite Towels by YogaRat
These towels for swimmers are 100% microfiber and come in three sizes: Beach + Pool, Sport + Bath, and Hand + Face.
They are also the official towel of the Los Angeles County Lifeguard Association. So basically if they're good enough for Malibu lifeguards, they're good enough for you.
The Beach + Pool towel is a good size at 32" x 68". The microfiber material is ultra-absorbent, fast-drying, and super soft. It's also very durable and stays in good condition after multiple washes.
These towels pack light and take up a fraction of the volume of terry cloth towels. YogaRat stands behind its products and offers a money back guarantee if you're not satisfied.
Sea to Summit DryLite Micro Towel

SeatoSummit.com $13
This super absorbent microfiber towel from Sea to Summit has an ultra-suede finish that makes the towel incredibly soft.
Rest assured that if you don't wash the towel right away and throw it in your gym bag for a few days, there won't be a deadly stench attacking you later.
The microfiber is given a permanent coating of silver ions, which prevent the growth of odor-causing bacteria.
The towel comes in five sizes, ranging from 12" x 24" to 30" x 60". Includes a mesh storage bag.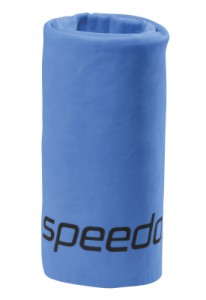 SpeedoUSA.com $16
Speedo Watershed Chamois
This little towel is pretty small at 11" x 15", but it packs a punch. The chamois material is highly water absorbent. Just pat over your body and after it's wet, just squeeze it out. It's instantly dry and ready to absorb water again.
Works great on hair as well and takes up practically no room in your gym bag.
It's a popular towel for divers and swimmers alike, and has even been spotted at the Olympics.
Underwater Audio
Underwater Audio also carries an amazing microfiber towel that is very absorbent and soft. It can hold up to five times its weight in water and dries super fast.
You can find this excellent towel here.
If you have any thoughts or questions about the aforementioned towels for swimmers, please feel free to leave a note in the comment section below.