Whether you run on a treadmill or like to venture out into the rain, the right headphones make a huge difference in the quality of your workout. When searching for the perfect headphones for running, there are a few things to keep in mind: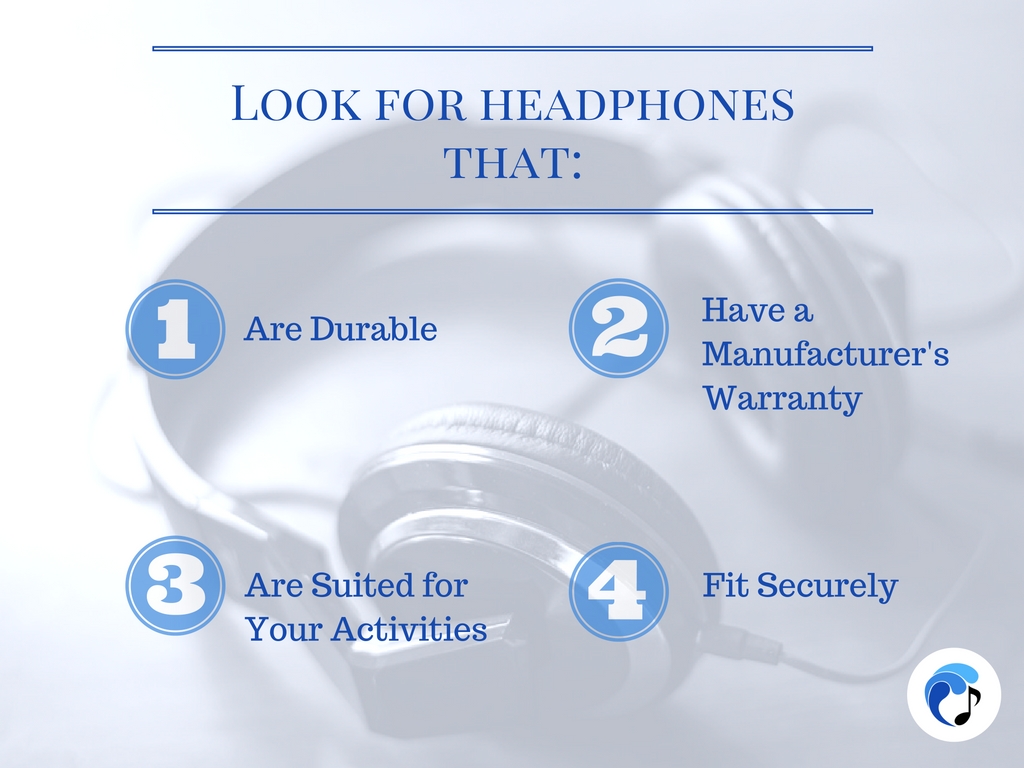 We've organized the best headphones of 2016 in the categories that matter most while running. We know every athlete is different and has various needs for comfort and function when it comes to headphones. This is why we're giving you the breakdown of the best, so you can choose what matches your needs!
Best At Staying In
No matter where you're running, it's a huge inconvenience if your earbuds keep falling out. Look for headphones that are built to create a seal in your ear, or ones that "lock" into place. That way you won't have to be constantly adjusting as you focus on your run.
The Swimbuds Sport waterproof headphones are built to stay put, with a watertight seal in your ears that keeps out rain or sweat. They also come with four different kinds of earbuds, so you can choose the fit that you like the best!
Price:

$70 USD


Warranty: 1 year

These Under Armor headphones are designed with TwistLock technology, and only have a cord behind the neck. This prevents the buds from being pulled out during a run!
Price:

$150 USD


Warranty: Not Clear

Yurbuds Inspire are also built with TwistLock which means they twist into your ear for a secure fit. They also have a silicone base that fits to most ear shapes.
Price:

$30-$60 USD


Warranty: 1 year

Best Durability
When you're putting a lot of wear and tear on headphones from weather, sweat, being pushed the back of your gym bag, etc…. you want to make sure you have a pair that will hold up against potential wear and tear. Waterproof or at least water resistant headphones will go a long way in ensuring you can work as hard as you want, wherever you want. In addition, make sure they are built to be sturdy.
HydroActive headphones are completely waterproof and designed to hold up even for swimming and water sports. They will withstand any rainy run and you could even try aqua jogging!
Price:

$90 USD


Warranty: 1 year

These Sennheiser earbuds are built with a super heavy-duty body on the ears and a strong cord. They aren't waterproof, but it would be hard to smash these buds.
Price:

$200 USD


Warranty: 2 years

Brainwavz, in this model, have a hard, metal shell and a braided wire to help them withstand wear and tear. They may look like a normal pair of headphones, but they will last much longer!
Price: 

$60 USD


Warranty: 2 years
Best Bluetooth
Bluetooth allows you to listen to music without any wires, which really comes in handy while running. Many athletes find that using Bluetooth allows them to focus more on their workout and less about the accessories.
 
These little things are cutting edge with their completely wireless and hands free design and built in sensors to track various aspects of your workout. Just be careful not to lose them!
Price:

$200 USD


Warranty: 1 Year

An over the ear pair is great for using hands free, and the controls are right there on the ears. This is a good pair if most of your workouts are at the gym since it isolates the music a little more.
 Price:

$200 USD

This pair has a long battery life of 8 hours and comes with an app you can use to save sound settings like base.
 Price:

$130 USD


Warranty: 1 year
 Best for Safety
I't s not always the best thing to be 100% focused on your music. When you're working out near traffic and other distractions, it's a good thing to be able to hear what is happening. If you run a lot outside, look for headphones that have strong sound, but also allow you to be aware of your surroundings.
 
Clear sound, yet still ambient enough to hear your surroundings. They have a long battery life and will even let you know when it's getting low.
Price:

$105 USD  


Warranty: 1 year

These buds are ultra lightweight and have a  cord that rests on the neck. They are also designed with a "open acoustic" design, so you can stay safe.
Price: 

$60 USD

 
Warranty: 1 year

 

These wrap around the ear and have a "hear through" sound. They don't insert into the ear, and are great if you have a smaller budget.
Price:

$20 USD


Warranty: Lifetime
Do you have a favorite pair of running headphones that didn't make it on our list? Let us know in the comments below!