Los Angeles is often known as an extravagant city. And the gyms in the city are no exception. We're going to look at the top 5 gyms in Los Angeles with the best swimming pools!
Equinox


The #1 rated gym in all of Los Angeles is Equinox. It's a pricy membership, but has so much to offer. From a lavish new lounge and restaurant to an
olympic-size lap pool
and celebrity-frequented basketball court, there's a reason why this is one of the most expensive clubs to be a member of in LA. But it is well worth the price! Members have often spotted celebs like Leonardo DiCaprio and Justin Bieber hitting the gym at Equinox!
Hollywood Wilshire YMCA
The YMCA is a swimmers dream as they offer adult swim lessons, water exercise & aerobics, arthritis & disabilities exercise, lap swimming pools, private swim lessons and recreational swimming pools! "Spare your joints and get an impactful cardiovascular workout by lap swimming!
The benefits are immense. Working your arms and legs simultaneously elevates your heart rate and burns calories without straining your body. And don't worry: this isn't a race. Enjoy the relaxing water, swimming at your own pace, as you get healthier with each fluid stroke.
To help maintain a safe and nurturing environment, we encourage lane sharing and circle swimming if more than one person is using a lane. This will create a good flow and allow you to have your own space for clean strokes."
Downtowngal Photo via wikimedia
They also place a big emphasis on family and strive to create a fun safe environment for all. "Bring the whole family and enjoy time splashing around in the pool during our recreational swim time!
Swimmers are free to use pool equipment, including noodles, kickboards, float belts, barbells, or weights.
As you enjoy the relaxing nature of being in the water, you'll elevate your heart rate, burn calories and work-out two major muscle groups (arms and legs) simultaneously – all while having fun!"  It's no wonder the Hollywood YMCA is one of the top rated gyms in all of Los Angeles!
Spectrum Club
Spectrum Athletic Clubs offer state of the art, indoor, heated swimming pools for the whole family! "Most Californians love the water, and enjoy the opportunity to stretch the muscles and get the heart rate moving with a good swimming workout. Unfortunately, the weather doesn't always allow for a swim in the outdoor pool or at the beach.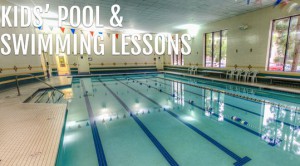 indoor heated pool
, and rest assured that you are protected from the dangers of outdoor swimming."
They also offer an indoor pool for kids too. "Bring the kids swimming in our
child friendly swimming pool
, and teach your kids more about basic survival skills should they ever end up in the water alone.
Drop the kids off at the dedicated area for our Kids Club, and you can feel confident that your kids are actively learning while you are getting in shape. You'll set an example for your kids even as you allow them to do something they love."
There's nothing more comforting than taking your entire family to the gym and knowing there is a safe and fun place for your kids to enjoy and learn how to swim, while you are doing the same!
LA Fitness

Another gym that gives you access to great swimming pools is LA Fitness. They have multiple pools throughout the gym for their members to enjoy. "Take a dip at your leisure.
"Our premium pools are second to none. Whether you're recovering after a gym workout, taking part in an
aqua-fit class
, training for a triathlon, or simply relaxing after a hard day, swimming offers one of the best all-over body workouts, making it a great addition to any gym programme."
They also offer swimming lessons for both children and adults. So families can learn how to swim and stay fit together!
Gold's Gym

Gold's Gym LA, image via Yelp.com
This gym is quite popular among Los Angeles locals. Gold Gym offers various classes of all types, but many swimmers come here for the
25 meter lap pool
it offers.
It's indoors and underground so it gives many professional and beginner swimmers the chance to really focus on their workout and improve their swimming techniques without the distraction of a busy community pool. This is what keeps their members coming back time and time again!
Now that you have learned about the 5 top rated gyms and swimming pools in Los Angeles it's time for you to grab your waterproof ipod, filled with your favorite music, and hit the pool!
Tell Us
What is your favorite gym and swimming pool to go to? What makes it your favorite?