I know it's only January, but I have already started to see this year's swimsuits displayed in stores all over town.
To join the movement, I thought I'd add my two cents on the matter. You know, to give a man's perspective on swimwear.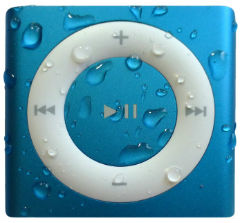 If you have read any of my blogs, you already know what my favorite swim device is (Underwater Audio Waterproof iPod Shuffle). Now, it's time to share my favorite suit brands:
 
Billabong
As far as design and looks go, Billabong is awesome. They always have the coolest looking stuff.
From year to year, their designs make the trends. I don't want to sound like a fashionista, but I also don't want to be the dude at the pool who looks like he got his suit last century.
I'm telling you. These guys make a really nice suit. The quality and fit are nice too. I've never been disappointed.
 
Quicksilver
A long time favorite of mine, Quicksilver is still an awesome brand. This surf shop has all you need for a day of beach sports.
The designs are cool and they are made super well. They also carry wetsuits, rash guards, you name it. And they have stuff for winter sports too.
Basically, if you like any sport with the word "board" in it, this is the store for you.
 
Speedo
When it comes to anything outside of the realm of board shorts, I always go with Speedo. They are top of the line and the quality is predictably awesome.
You really can't go wrong.
Everything will stay where it's supposed to (if you know what I'm saying), the swimsuit won't wear out too quickly, and you will have little to no drag.
Speedo remains on the top of the market. This brand reigns supreme!
 
What's Your Favorite?
Do you always tend to buy one brand of swimwear? Which one is it? We'd like to know.
Please leave your tips in the comment section below.
See ya' next swim season!