Swimming really gives you a unique perspective on life. Whether you're a competitor, a passionate recreational swimmer, or you're stuck swimming for exercise, life looks different from the water. Even if your focus and dedication are serious, that doesn't mean you can't enjoy the humorous and ironic aspects of a life spent wet. So, for all you bravely living the swim life, we've compiled some of the funniest swimming humor on the web. Share this with a friend who could use a good laugh after a hard set.
The Life of a Lap Swimmer
We've got a solution for that

(Pssst! Have you tried AquaGuard?)

Starting Block Nightmares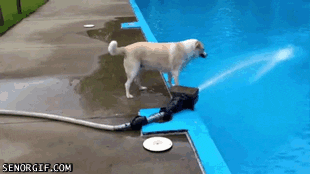 Swim Practice
that Post-Swim hunger
And Finally…
…what would internet humor be without cats?

Share your Swimming humor!
What's your favorite swimming meme? Do you have a funny observation about life as a swimmer? We'd love to hear from you in the comments!