You know that one person who somehow manages to be a part of everything? On all the teams. Getting literally everything done. You wonder if they even sleep because they are so busy.
Yeah. That's Andrea (@tri_hippster), and we love her!
A Music teacher, a member of the Cupcake Cartel triathlon team, and an Ambassador for Underwater Audio... all while caring for a couple of awesome kitties. She's busybusybusy! We give her an A++ for all the extra credit! But we are about to blow one of her secrets...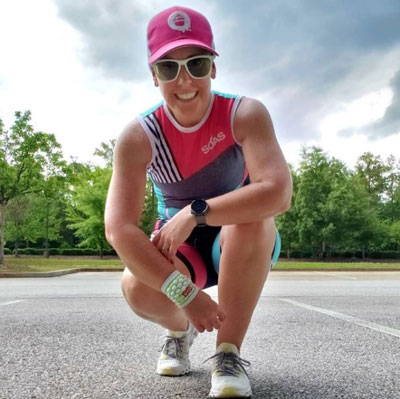 Swimming is her weak link in her triathlon training.

"When I go on runs, I have music in my ears. When I'm training on my bike indoors, music is pumping. Swimming for me, being a triathlete, unfortunately it is my weak link sport.
Anything over 2500 yards and I just start to lose my mind. So I pop in music and…it just makes it a lot easier for me to get through my swim workouts."
"Swimming with music has truly transformed my swimming, but also my outlook on swimming. Sometimes I'm just not feeling it. I love the sport of triathlon but swimming for me... It is truly a challenge. And so I was looking for a way to help myself enjoy swimming a little more and when I started swimming with music, that was the answer for me…the Delphin has saved my swim."
What's our takeaway after getting to know Andrea?

Sometimes we need to make our own motivation.
Even when our end-goal is something we are passionate about- be it a sport we love, or a new milestone in weight loss or recovery- there will always be things that we simply don't want to do. It is our own responsibility to find a way to get it done- to find a way to push through to the end. As a teacher, a dedicated teammate, and a tenacious athlete, Andrea is someone from whom we can all take a lesson in dedication.
Check out Andrea and Underwater Audio on Instagram!
@tri_hippster @UnderwaterAudio
Want her setup?
Train like Andrea with the Delphin + Swimbuds Sport Bundle.