If you follow Olympic swimming, you automatically know who Missy Franklin is.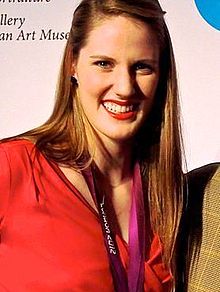 The truth many may not realize is that she is actually quite young. She is starting a new chapter in her life and just now leaving collegiate swimming. However, at least it sounds like she is leaving on good terms:
 
Went out of the NCAA with a Bang
"The four-time Olympic gold medalist went out with a bang, winning three individual events and helping her California team win the NCAA championship last weekend."
Although swimming for the NCAA has connections and perks of it's own, it also has limitations. There are restrictions prohibiting a swimmer from getting paid endorsements, swimming for money or even receiving certain competition awards.
 
What's Next?
Now that the swimmer is out on her own, she has signed with a Sports Agency in California.
She has chosen "Mark Ervin of WME-IMG to represent her. She will be the first swimmer in his client stable that includes Olympic champion skier Lindsey Vohn. Ervin used to work with Olympic snowboarder Shaun White."
From interviews, she seems very confident and excited for this new transition in her career.
Of course, it will be a sad time for the NCAA to let her go, but we are thrilled and anxious to see where her swimming career will take her next.
 
Underwater Audio

Do you want to swim like a pro? Do you need a boost to help you train longer and harder in the pool?
Look no further than Underwater Audio. The Waterproof iPod Shuffle may be just what you need to gain that extra push in the pool. And it makes swimming so much more fun!
Buy one today! Trust me on this one… It's so worth it.